Cranberry-Trivia
Benefits of Cranberry Consumption
A little cranberry-trivia for you about a fruit that can be used year-round. Keep some handy for a variety of recipes. Did you know cranberry-uses are for good health as well just like the pie-plant coincidentally.
If you haven't any cranberry-sauce, rhubarb will do for this purpose, and it provides that this sweet and sour taste goes so well with meat.
Good to know. But, admittedly, I do like to have cranberries around on certain occasions, and of course, there are obvious reasons that rhubarb and cranberries are two different things.
They do share a few similar qualities too if you think about it.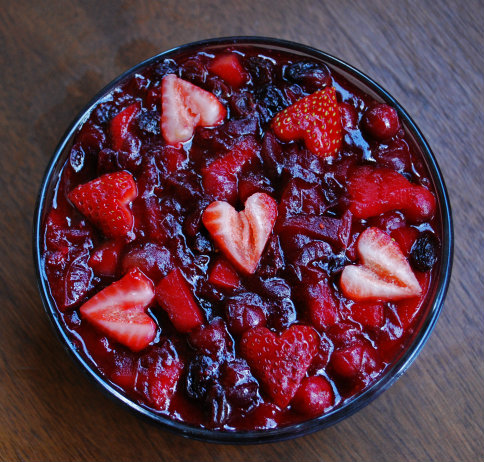 Why do we like cranberries so much, and whats the story on them? Here's a few cranberry-facts.
When we think about Thanksgiving or Christmas, we tend to immediately think about that nice tart taste that goes with the turkey.
We buy them whole and raw or slide the sauce out of a can in jelly or whole form. It's a tasty treat a number of ways.
There are many healthy advantages too you may not be aware of. Cranberries have a lot to offer.


A Cranberry Bog
I remember going cranberry picking once with friends as a kid. We were picking so that my friends' mom could make cranberry sauce. They were growing between two islands in a shallow swampy type bush.
Cranberry-trivia fact
Cranberries are found in cooler climates in areas of the US and Canada.
They thrive on low creeping bushes and shrubs. Bog conditions are perfect for this crop and they do very well in this type of growing area.
The bogs are usually flooded at harvest time, and this produces some interesting advantages. They don't grow there actually, they float.
The cranberries are much easier to get to when they float on top of the water, but when they are floating, they also soak up alot of sunshine. The antioxidants found in cranberries increases with the more sunshine they absorb.
Cranberry-Trivia Fact - Protects against foreign bodies
If you are wondering what antioxidants are, they are simply materials that can protect your body cells against what is produced when food is broken down, or from exposure to the negative things in the environment like smoke, for example.
What is produced that can hurt or damage your cells are called "free radicals", and they are thought to have connections to cancers and possibly heart disease.
The antioxidants, which also give cranberries their lovely deep red color, are found in lots of foods like fruits, grains and nuts among others, and are thought to protect against the free radicals that roam the body looking for something to hurt.
We love cranberries in a variety of forms. We like them dried and thrown in a salad, or eaten by the handfuls as snacks like raisins. In fact, you can buy "craisins" which is a snack in a bag. I've used them in cookies.
We love our cranberry sauce, and we love our cranberry juice, which is also credited for aiding in clearing infections of the urinary tract in females. Substances in the berries appear to put up a barrier to fight the infection caused by harmful bacteria.
There are studies going on that are looking at whether or not ulcers in the stomach are able to have those bacterias destroyed too.
Cranberries are full of many essential nutrients such as vitamin C, manganese and fiber.
One thing to be aware of though to be on the safe side, is that cranberries also have a chemical in them that can create a risk for kidney stones.
There's a little cranberry-trivia I had no knowledge of at all.
There is no dispute among many people that the simple little cranberry possesses some very attractive healthy qualities overall.


A Little Cranberry History
More Cranberry-Trivia
Cranberry-Trivia Fact - Cranberries Served As Life-Savers
Cranberries were used by American Natives for foods at harvest time in Fall and for medicinal purposes in the 16th century. In cold weather, any foods provided by nature were thought of as gifts not just for basic sustenance, but for good nutrition over the winter months.
Early settlers used to call them "crane berries." In the far eastern states, they were referred to as "bear berries", because bears were often observed eating them.
Cranberries have been named the official state fruit in Wisconsin, which is a leader in the business of cranberry production.
Cranberry-Trivia Fact
Did you know that in as many as one thousand drink and food products, cranberries are an ingredient? That's alot of variety for cranberry-consumption.
At holiday time as a sauce or a beverage is when most people use cranberries the most.
They are quite regularly found in baking goods such as muffins, scones, cookies. If you like a relish, chutney with cranberries as the main ingredient is delicious.
If you have a variety of fruits on hand such dates, pineapple, apples and juices (especially orange) you will be able to experiment with a number of different recipes. Make sure you have bags of frozen berries available to cook down into a compote like you would rhubarb.
You can mix cranberries and rhubarb too.
You can freeze cranberries for up to two years. They keep very well, and will chop easily when needed for baking.
Enjoy the beverages even better?
Cranberry wine is a popular drink with many people.
For those who prefer a non-alcohol drink like plain juice, it's best to buy the brand labels that use alot less sugar than the rest. It's much healthier that way. You can get cranberry juice with no sugar, but it will be very bitter and sour. The nicest juices often blend cranberries with other juices like apple juice.



If you like the taste of cranberries in a cocktail, try out a Cranberry Cosmopolitan.
Cranberry Cosmopolitan Cocktail

1 1/2 ounces cranberry and orange vodka
2 ounces cranberry juice
1/2 ounce freshly squeezed lime juice
1/2 ounce orange flavored liqueur (cointreau)
sliced orange peel for garnish or cranberries skewered

Shake all ingredients in a cocktail shaker with lots of ice cubes until well combined; strain into a chilled martini glass.
Slip the peel over the rim or lay on top of the drink; add skewered cranberries for garnish.


So there you have a little cranberry-trivia and cranberry-facts on this tiny but powerful little berry.
Why did I include this here? Because to me, like rhubarb, they both have similar "powers" for one, there's alot you can do with them both but people tend to use them the same way all the time, and at the same time of year. They can be combined.
If you just prefer cranberries as a sauce as an addition to a nice turkey or chicken dinner, remember, you will enjoy the benefits healthwise too.


If you love cranberries, cranberries and rhubarb sauce mix well together. If you would like to try something other than cranberry sauce this year, try some compote variations. Tastes very good with turkey and ham, maybe even slightly more tangy.


Leave Cranberry-Trivia, Return To Holiday Baking

Return To Home Page