We Love Rhubarb.
What Do You Do With Yours?

Harvest healthy rhubarb.  Create amazing dishes from rheum-rhaponticum.  Who knew?
Ever-since I can remember, this plant was a gardening favorite with my Grandparents in their backyard and they faithfully tended it.
As necessary, it was picked numerous times over the season. It was cleaned and chopped, put into bags and frozen. Their freezer was always full.
They had such a wonderful garden, and it certainly wasn't fancy. One of the best chunks I used to get came from the inside of an old tire!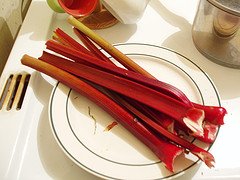 Except for the occasional pie which my Mother made for them, I don't recall it being served any other way but stewed, cold out of the fridge, and served in a bowl with their dry toast.
But that was the way
they
liked it. It was their treat after dinner.
More often than not, we accepted what was given to us just to be polite. I know I did.
But, I just didn't realize what more I was supposed to do with it at the time other than make a pie.
What more to do with this sour-produce was always the burning question!
Did you know that it is widely referred to as the pie-plant?
Or "rheum-rhaponticum" to be botanically correct, refers to the ordinary garden-type.
My Grandparents are gone now, and we no longer have access to that wonderful supply of rhubarb. I am now growing more of my own, and discovering that you really can do a lot more than simply stew it and eat it with a spoon.
Thank you for visiting and perhaps consider growing your own garden. There are so many different
varieties
out there to pick from.
Check out the section here on trivia. Lots of interesting things to read there. It has a rather humorous side to it actually.
Or, give some of these dishes a try. You just may be pleasantly surprised to discover that this sour but tangy fruit can produce the best cobblers, coffee cakes, and even cookies to name a few.
And that's just the tip of the iceberg.
Some excellent
culinary tips
and helpful
pastry techniques
can come in handy when making your favorite pies! In addition, there are a variety of recipes here for
muffins
,
cakes
,
crisps
,
tarts
and a whole lot more.
At the end of the day? Treat yourself to a little cocktail with rhubarb juice.
Have you ever tried a
bellini
or a
mojito
made this way?
Be sure to see
Holiday Baking
for lots of ideas in addition to everyday cooking as well. (Need some dressing ideas for turkey in addition to the holiday goodies?)
PLEASE ENJOY! THIS IS GOOD STUFF!