A Prairie-Home-Companion
Delights Rhubarb Fans Everywhere
Wildly popular, a Prairie-Home-Companion delights on sirius- satellite-radio and in live stage shows.
From the Fitzgerald Theater in St. Paul Minnesota, this radio show runs on Saturday nights. It is also taken on the road frequently to familiar venues, and has a connection to "rhubarb" strangely enough.


Hosted by Garrison-Keillor, this live variety show has been popular since the early 1970's. The show is so popular for a number of reasons. The musical guests are wonderful, and the musical lineup usually consists of a good mix of country, folk, bluegrass and gospel music. Other styles of music have been featured as well such as classical and opera.
More than enough variety of entertainment to please everyone.
Watch an Interview with Garrison Keillor



The regular features of this show are counted upon by the excited audiences. There are a number of regular skits which are performed regularly.
There is "Guy Noir, Private Eye" which pokes fun at the detective dramas and gumshoe detectives.
The introduction is basically the same much to the delight of the crowd.
"A dark night in a city that knows how to keep it's secrets"


There is the "Dusty and Lefty" skit, featuring the life of 2 cowboys. Garrison-Keillor plays the role of Lefty.

The best known segment is the reporting monologue given by Mr. Keillor based on his hometown of Lake Wobegon.
It is all fiction though.
The opening is always the same talking about how it has been a quiet week in Lake Wobegon. There are reports given on the ficticious characters and places of this little town.
The goings-on with The Chatterbox Cafe, Father Wilmar, the Lake Wobegon Whippets sports team and an assortment of others are reported as well.


"Powdermilk Biscuits" is just one of the many sponsors of a Prairie-Home-Companion. It too is ficticious, just as Bertha's Kitty Boutique, Guy's Shoes, and Ralph's Pretty Good Grocery is also.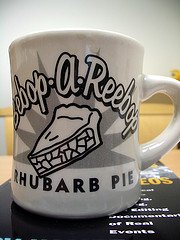 Another proud "sponsor" is Bebopareebop Rhubarb Pie and Bebopareebop Frozen Rhubarb Pie Filling as well.
There is a song sung to the tune of "Shortnin' Bread" followed with a blurb suggesting how "wouldn't it be great to have a piece of rhubarb pie?"
It's hilarious how they go on to tell how rhubarb pie gives great gastrointestinal disorders. This is all done with background music and sound effects.


See A Movie Clip with Meryl Streep


There are so many more recurring fictional commercials, stories, characters and skits which make up a Prairie-Home-Companion show.
There is a band that accompanies with regular performers and sound effects. It is all about radio comedy, but has some sentimental serious moments as well.
A movie was made and released in 2006 about this radio show.
The movie was written and produced by Mr. Keillor and features an all-star cast like Kevin Kline, Meryl Streep, Lily Tomlin, and Tommy Lee Jones just to name a few.
The movie is a fictional story, about what goes on behind the scenes of a radio show that has been unexpectedly cancelled.
A real must-see.


Almost 4 million listeners tune in each week as well as listeners to the American Armed Forces Radio Network, and audiences from many other countries all over the world.
Sirius-Satellite-Radio has begun to broadcast as well.


See The Rhubarb Daily Deals for Prairie Home Companion Items if you like to collect memorabilia, or movies etc.



Is the Prairie Home Companion coming to your area?
Connect to The Rhubarb Tour and find out.

See the Rhubarb Tour Dates


Live Taping in Lanesboro


Leave A Prairie-Home-Companion, Return to Rhubarb Trivia

Return To Savor The Rhubarb Home Page